Regina Derieva was a Russian poet and writer who published
around thirty books of poetry, essays, and prose.
"Rediscovering Regina Derieva" by Cynthia L. Haven, TLS, Oct. 8, 2014
https://www.the-tls.co.uk/articles/public/rediscovering-regina-derieva/

Regina Derieva: A Short Biography
Regina Derieva was born in the former USSR (Odessa, Ukraine), in 1949.
From 1960 until 1991 she lived and worked in Akmolinsk (Tselinograd /
Akmola) and Karaganda, Kazakhstan.
She graduated from university with majors in music and Russian philology
and literature. A poet since the age of 15, she published several books
which were heavily censured by the then Soviet authorities, but nonetheless
(at the request of other writers) became a member of the Union of Soviet
Writers.
In 1990 Regina and her family converted to Catholicism and soon moved
to the Holy Land. The State of Israel, however, deprived the whole family of
Israeli citizenship only because they had declared themselves Catholic.
What is even worse, the government of Israel refused to let the family out
of the country. Nevertheless, living in East Jerusalem, Regina Derieva
published a number of books.
In 1996 Fr. Armando Pierucci, a significant Italian composer and
organist, composed a cantata for the series of Regina Derieva's poems
Via Crucis. That same year, she lost the appeal for Israeli citizenship
at the High Court of Justice in Jerusalem.
In 1999, after a request of Church officials as well as some articles
published in international press, the State of Israel let the Derievs leave
for Sweden and the USA. Having received an invitation from the Catholic
and Lutheran bishops of Sweden, Regina and her husband, who is a
well-known icon painter and expert in liturgical music, went to Sweden
to participate in an ecumenical conference. After the conference, their
were granted asylum. At the same time, their son Denis went to the USA
to study at Assumption College in Worcester, MA.
From July 1999 until her death on December 11, 2013, Derieva lived
in Sweden.
Derieva's work has been translated into several languages, including
English, French, Swedish, Arabic, Italian, Chinese, Thai, Greek, and other
languages. A compact disc with her readings in Russian of selected poems
was issued in 1999. Derieva's work has appeared in the Poetry magazine,
Evergreen Review, Modern Poetry in Translation, Cross Currents,
Poetry East, The Liberal, Ars Interpres, Salt Magazine, Cyphers,
Holy Land Magazine, La Terra Santa, Siaures Atenai, Quadrant,
Notre Dame Review, St. Petersburg Review, Artful Dodge, mid)rib,
The Dirty Goat, Quarterly Literary Review Singapore, POEM magazine,
Aorta, Poetry International, The New Criterion, Dublin Poetry Review,
Artes, The American Poetry Review as well as in many Russian magazines.
She translated poetry by Thomas Merton and contemporary American,
Australian, British, Polish, and Swedish poets. Regina Derieva participated
in a number of Swedish and international poetry festivals, including
the International Poetry Day in Nicosia, Cyprus, Poesidagarna i Malmö,
and Singapore Writers Festival.
Derieva's poetry is strongly affected by her Catholic faith. In 1999,
Fra Armando Pierucci composed another cantata for the series of Regina Derieva's poems. This cantata is titled De Profundis.
In 2003, she received the Shannon Fellowship of the International Thomas
Merton Society. In 2009, the Catholic Church of Sweden awarded her the
ORA ET LABORA medal for her literary work to benefit the Church.
Regina Derieva's funeral took place on December 23, 2013, and she is
buried at the Norra Begravningsplatsen (Katolska Kyrkogården) in
Stockholm.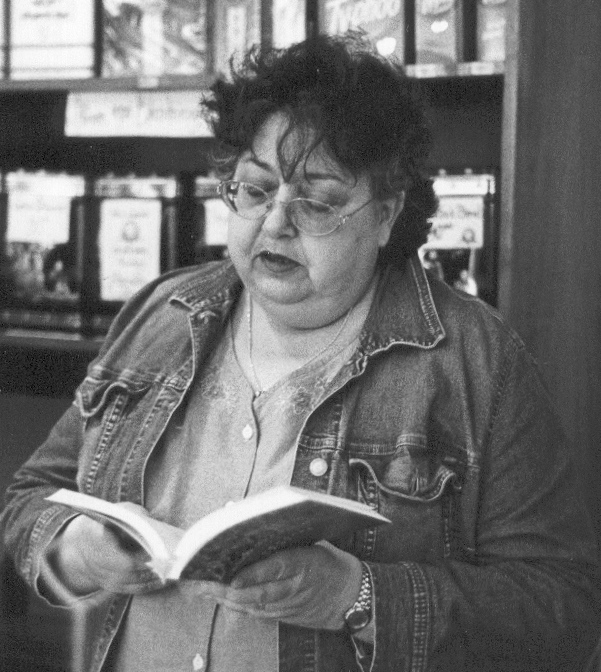 Regina during an event at the Poesidagarna in Malmö. 2005

You can learn about amazing vicissitudes of the poet Regina Derieva
from the following sources:
New York Times, November 25, 1996
(article by Serge Schmemann) click here
L'Osservatore Romano, February 27,1999
(article by Graziano Motta) click here
The Guardian, May 15, 1999
(article by David Sharrock)
The Tablet, July 17, 1999
(article by Joshua Brown)
Svenska Dagbladet, November 11, 1999
(interview with R. Derieva by Nina Solomin
and Bengt Jangfeldt)
Svenska Dagbladet, July 4, 2003
(interview with R. Derieva by Ricki Neuman)
click here
Other biographies of Regina Derieva also can be found in:
• Wolfgang Kasack, "Regina Derieva," in Kindlers Neues Literatur
Lexikon, ed. Rudolf Radler, Band 21 (München: Kindler, 1998).
• Who is Who in the Churches of Jerusalem, 2nd ed., s. v. "Regina
Derieva" (Moscow-Jerusalem: Bridges of Culture, 1999).