On 30 September 2011, a concert of sacred music was held at the Basilica
di Santa Maria delle Grazie in Milan. Attendees enjoyed music performed by
the Moscow Synodal Choir conducted by Alexei Puzakov and and the
Symphony Orchestra of the Academy delle opera under the direction of
Diego Montrone.
Works by Sergei Rachmaninov, Giuseppe Verdi, as well as "A Song of
Ascents" by Metropolitan Hilarion Alfeyev and Frà Armando Pierucci's
"De Profundis" – a cantata based on the poems by Regina Derieva were
performed.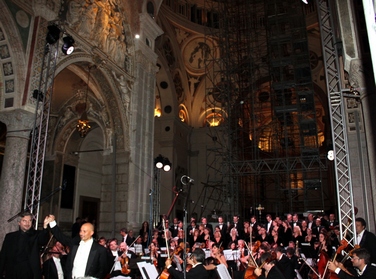 Among those attending the concert were the Russian First Lady Svetlana
Medvedeva Svetlana Medvedev, the chairman of the Department for External
Church Relations of the Moscow Patriarchate, Metropolitan Illarion, and
Armando Pierucci.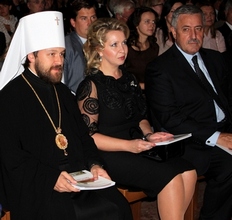 "...concerning Fr Armando, we should say that this was a revelation. Pierucci
is a 75 year old Franciscan, who is said to be a fine organist and has lived for
many years in Jerusalem, where he once aroused a polemical reaction about
Semitism and anti-Semitism. The fact is that his De Profundis... is a powerfully
beautiful work for mezzo-soprano (the rough but strong Polina Shamaeva),
flute (an excellent soloist whose name does not appear in the programme),
choir and orchestra. It was written 10 years ago and strikes an admirable
balance between classical and modern styles, with a harmonious structure as
solid as it is audacious, and enriched with profound and provocative
questions on the meaning of life and death."
An extract from the article by Paolo Viola
"Arcipelago Milano" 4-10-2011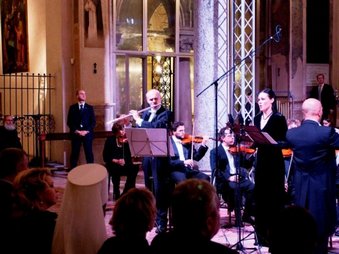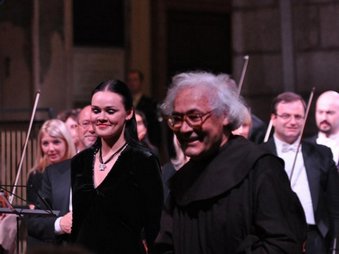 There will be a new double cd (reissue) entitled "Via Crucis – De Profundis"
released in October, 2011. It contains two Frà Armando Pierucci's cantatas
to the poems by Regina Derieva.
A Substantial Recording of Regina Derieva was made in October 2001 by the Holyland Records Ltd.. The reading included 40 of her poems, five of which
may be listened to online.


Listen to Regina Derieva Online: Audio Links

BETWEEN THE WINDOW AND THE DOOR